Establishment of a collaborative agreement with the University of Bordeaux and the Institute of Vine and Wine Science
An inter-university exchange agreement was established between Niigata University and the University of Bordeaux, located in the Bordeaux region of France, which is famous throughout the world as a wine-producing region.
At the same time, a collaborative agreement was signed between the Institute of Vine and Wine Science, University of Bordeaux (ISVV), and Sakeology Center.
The agreement was finalized at a ceremony by President of Niigata University TAKAHASHI Sugata and Director of Sakeology Center TAKAHASHI Hitoshi, together with the Director of Niigata Prefectural Sake Research Institute and the Chairman of Niigata Sake Brewers Association.
This agreement not only addressed academic and student exchange between the two universities, but was also the first step in our aspiration to establish Niigata as a sake brewing region at the world level and promote Sakeology to the world.
For more details, please see Niigata University website.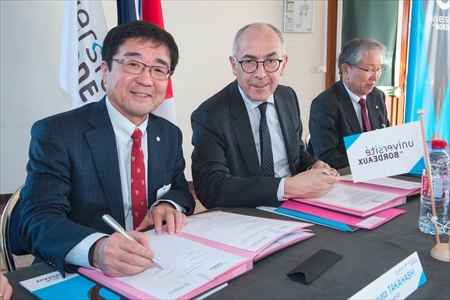 Signing Ceremony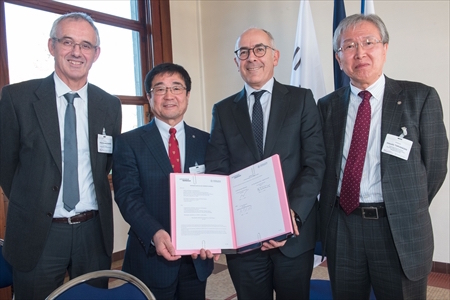 (from left) Alain Blanchard, Director of ISVV; TAKAHASHI Sugata, President of Niigata University; Manuel Tunon de Lara, President of University of Bordeaux; TAKAHASHI Hitoshi, Director of Sakeology Center
Photos: © Hugues Bretheau – Université de Bordeaux